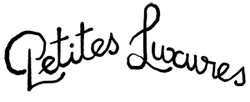 Commander sur Amazon
Commander sur leslibraires.fr
Commander sur la fnac


Le voici le voilà, enfin le premier livre de Petites Luxures !
Réalisé à partir de 50 histoires intimes envoyées par des Femmes et des Hommes du monde entier, compilées et illustrées par Petites Luxures. Édité chez Hoëbeke, 108 pages de grivoiseries élégantes et de sourires coquins en perspective. Sortie officielle le 30 octobre 2019, disponible chez tous les bons libraires et en ligne sur les sites ci-dessous.

Here it is, the very first Petites Luxures book! Made from 50 sex stories sent by Women and Men from all over the world, gathered and illustrated by Petites Luxures. Edited by Hoëbeke, 108 pages of elegant ribaldries and kinky smiles. French version coming on October 30th, available now online (follow the links below). International version in different languages is in preparation.